I was supposed to get to the gym on Monday for my strength workout, however my day become a wee bit sidetracked. After pausing to get my morning coffee on the way in to work, my morning's beginning at 4:30 am this week, my car decided that it would overheat. I made it to Ingersoll without any difficulty, if I had to stop the temperature gauge would shoot up but as soon as I started moving again, the radiator have enough airflow to get the temperature down. I popped in to the only open service center available and emptied a jug of 50/50 mix in to the reservoir.
Heading home it was apparent that the car needed more help than my simple rehydration plan. After reviewing the possibilities with the mechanic we decided to opt for replacing the thermostat. A relatively simple procedure that only set me back $250. I really need to think about replacing the car in the spring, perhaps something red in a convertible with vanity plates like COMPNS8N. Sounds like a plan, I wonder if the wife will approve.
Monday became my rest day. I never did make it to the gym, I left that for Tuesday.
Marc and Rebecca mailed out the route information for the Tuesday night clinic run. An "easy" 6km tempo run. No hills, a couple of possible waits for traffic. I figured that a half hour on the stationary bike and my strength routine wouldn't affect my ability to churn out a "measly" 6K.
After working out, while stretching (I do a meager
butterfly
), I was approached by Erica, one of the GoodLife Personnel Trainers. She was supposed to be looking for clientele to do fitness assessments but my natural good looks and svelte physique didn't qualify. If only Erica had seen my Aug 2008
photo
. But I digress ….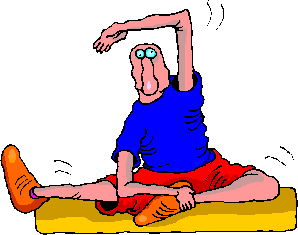 Erica has a background in
Yin Yoga
. She spent about 20 minutes with me reviewing some
Yin techniques
that not only kicked my inflexible ass but might actually be something I can work at incorporating in to my post run recovery routine.
She also demonstrated a modified balance pose that is much better than the one I can currently using.
Starting with
Mountain Pose
– Tadasana
Followed by
Tree Pose
– Vrksasana
I popped home after GoodLife to grab a quick bite to eat and change into my running gear.
The entry in to the Running Room was packed with people. The Half Marathon Clinic now has over 100 registrants, while our Marathon Clinic has over 30. There was also a small walking group tucked in to a corner at the front of the store.
I knew more people in the clinic than I thought I would. I have run and/or trained with Nancy, Patty, Katie, and Lisa. KO and Jules made it out. Nicole was there as well. Strange, I never noticed if I knew many of the guys. Well other than Marc, Bob, Chris, and Marty. My bad, I better add a new goal to learn the names of as many of the guys as I know of the gals. Balance, yin and yang.
First night was introductions, overview, guidelines, and goal races. We did eventually
get out to run
that 6Km as well. Negative split the distance with some decent sub 5min/km pacing on the way back in. Footing wasn't the best, Jules made a wise choice and wore some extra traction. If I had paid attention to the weather a bit more, I might have tossed on the YakTrax as well. It wasn't bad but a light dusting of snow was a mixed blessing. Not wearing a traction aid means I have to really compact my stride which is not a bad thing. If a can increase my cadence, once the good weather returns, I hopefully can maintain the quicker turn-over and lengthen the stride somewhat.
While running, I discovered Marc and a few others are trying to qualify for Boston. Our times are all close, simply because we're aged. The down side is, to help qualify we need to add some extra mileage in to the schedule. I wonder if I can log sleep walking as training?